From the Bonsai Clubs International web site (http://www.bonsai-bci.com/):
What is BCI?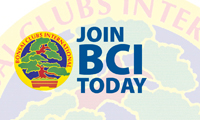 Bonsai Clubs International, a non-profit educational organization, advances the ancient and living art of bonsai and related arts through the global sharing of knowledge. We educate while promoting international friendship and solidify world relationships through cooperation with individuals and organizations whose purpose is consistent with ours.
Bonsai is a unique living art form enjoyed and practiced by diverse cultures, utilizing the lessons of nature to improve the physical, mental, and spiritual well-being of mankind and our relationship to our environment.